Keeper Program
Enjoy visiting lighthouses? Ever wanted to stay in one?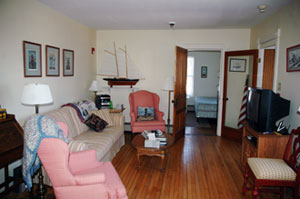 The Grand Traverse Lighthouse has the perfect opportunity for people who love lighthouses. From April through December, you can spend a week staying in the lighthouse as a lighthouse keeper.
As a lighthouse keeper, you'll stay in the former assistant's quarters on the northern side of the lighthouse. Inside you'll find a fully-equipped modern kitchen, a comfortable living room area, two bedrooms, and a bath and a half. Each of the bedrooms contains two twin beds, accommodating up to four adults at a time.
During your stay, you'll be responsible for greeting visitors and providing historical information about the lighthouse. You'll also spend time helping in the gift shop and with other miscellaneous duties. Complete training is provided.
Gift certificates are available for this program.
Please call us at 231-386-7195 or contact us for more details.
For a list of available weeks, please visit our calendar.